Clothing for Sexy Water Games
Wet clothes can feel very sensual. Especially during water masturbation you may want to wear soft and comfortable clothes. They add a layer of interest and a wonderfully sensual texture to this wet experience.
Wet clothes give you a feeling like you're being touched and caressed all over your body. The sensation of soft clothing wafting around you in the water or of wet fabric clinging to your skin out of water can be very erotic.
Skin tight clothes feel cosy and are great for a massage. Loose fitting clothes have a more tactile feel as they float around your skin, caressing you gently as you move through the water.
We recommend soft cotton clothes or soft nylon rainwear for best results. If they are breathable they can double up as sleep wear which you soak in the shower the next morning, or whenever you feel horny during the night.
Your clothes should be loose enough to allow for a full erection and a big ejaculation. The warm soapy water will quickly dissolve your cum after 5 -10 mins and wash it out. Keep your clothes on for that time.
Try different clothes in the shower or bath, to make sure they feel good both wet and dry. Pick the ones you like most when you share wet fun with a friend.
Get Wet
Getting your clothes wet can be a most exciting experience. The slow move from dry to wet is a real thrill for some people.
Always start a wet session in dry clothes as it is more comfortable and exciting, especially if it involves getting wet slowly. Have several items of comfy clothes at hand to change into as you will get wet repeatedly during some of our activities.
Fill up your bath with warm water and bubble foam. Then step in and watch how your pants get wet at the bottom. Kneel down so the water just reaches your penis and balls. This is a wonderful feeling as the clothes touch your sensitive areas. Move in deeper until your penis is all in the water. With your hands move the clothes around your lower body.
Now lean back and immerse yourself completely. Feel how the soft fabric slowly soaks up with water and hugs you gently, how it smoothly covers and caresses your body as it comes alive.
Watch how little air bubbles between your skin and clothes move up your back, tingling and massaging you in a gentle way. This is a very beautiful experience at the beginning of your bath.
Beach Splash
The sea is a great place for playing with your friends to get to know each other. Take one or more friends to the beach and find a quiet area.
Wear comfy clothes when you splash around, like long nylon ponchos. Play with each other, jump about, or tease each other.
See who can stay dry the longest while you try to get each other wet. The key is to drop your usual inhibitions and explore the wet and wild side of life.
Alternatively, you may want to snuggle up with a friend in a secluded romatic cove. Hug each other, hold hands as you walk slowly into the water. Watch each other as your clothes get wet more and more. Notice how sexy your friend looks in wet clothes. The rest is up to your fantasy.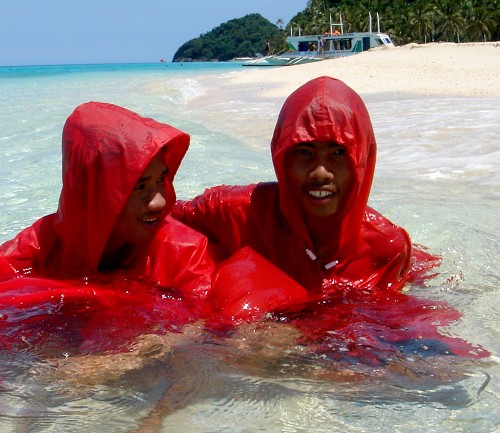 Reader Comment
For me it's always a question what kind of clothes I should wear for my outdoor freeballing activities. Of cause it's fun to go running or swimming in unlined, thin nylon pants or boxers to feel (and show!) my swinging dick. This feels so good that I immediately get a tent. Wet nylon wrapped around my boner feels awesome and I wear this at home to masturbate with my friends.
Outside I prefer to wear skintight lycra clothes because I can better contain my erection. Another advantage of skintight pants is that I can "arrange" a detailed bulge. When I go out jogging or swimming I want the people to see how big my balls are and that my cock is uncut, and even more. I love to wear a black swim shirt with white pants which are a bit seethru. Nice way to meet new friends quickly.
~ Pan, Pattaya, Thailand